Velvet JUMBO DUO paper towels – NEW
Velvet JUMBO DUO paper towels are a NEW product in our offer, which will be available for purchase since April and will help you keep order not only in the kitchen. How do they fit into our Eco Agenda? Where and how can they be used? Why are paper towel rolls an indispensable element of household equipment and what makes them so effective?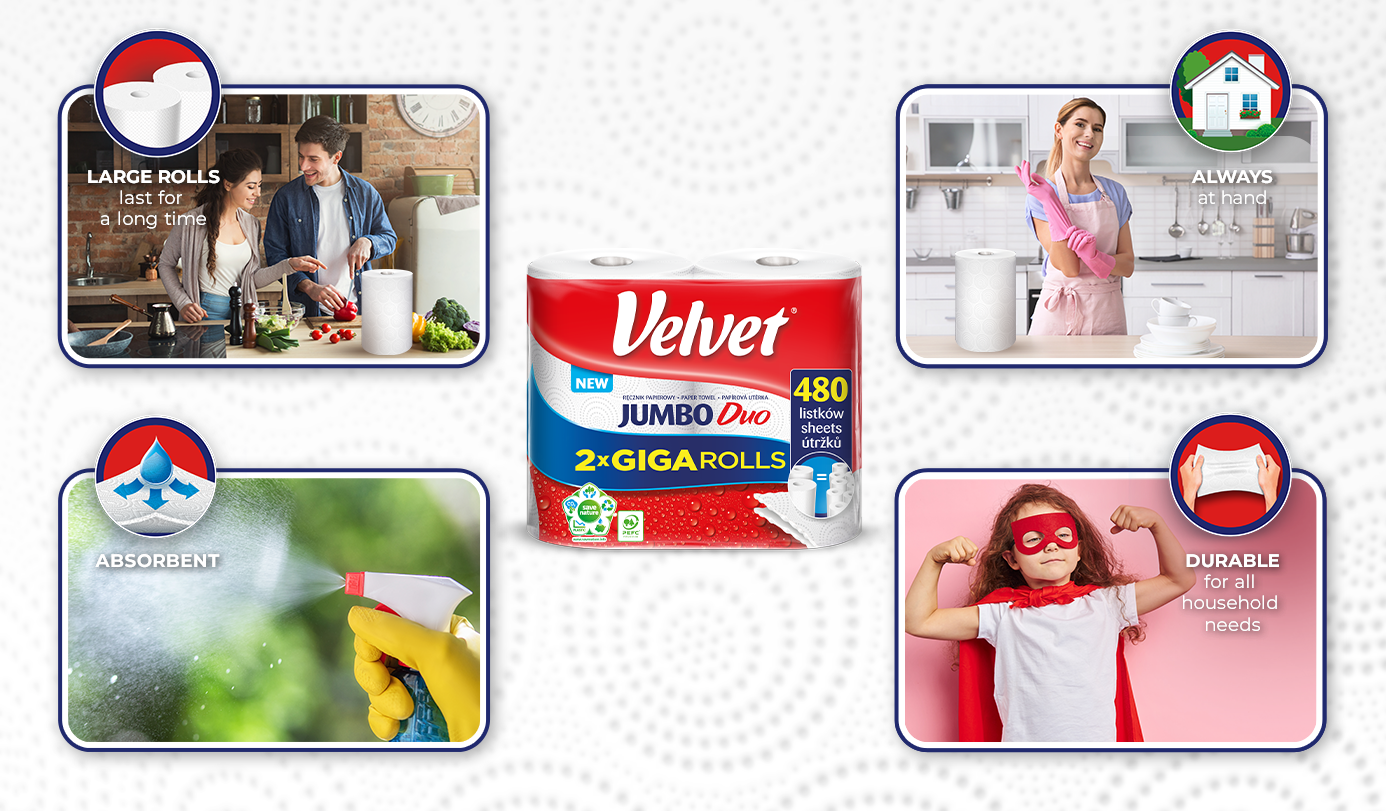 Paper towel rolls
A paper towel offers an excellent way to keep things tidy. It differs from other products, such as toilet paper or handkerchiefs, in its structure. We manufacture cellulose paper towels from much thicker tissue paper. As a result, they offer unparalleled absorbency and, at the same time, do not split even when heavily soaked. This makes paper towels perfect for absorbing liquids. They help with both accidentally spilt water or drinks and drying washed dishes.
Thanks to the unique embossing of the towel sheet, our newest Velvet JUMBO DUO paper towels offer very absorbent two layers. They are also extremely soft and pleasant to the touch. This makes them also perfect for wiping hands – they leave no lint or unpleasant scent. And thanks to the elegant embossed pattern on the sheets, they fit in perfectly with the décor of any kitchen. The new JUMBO DUO disposable paper towels offer two rolls in one pack. This way you can keep them in two separate rooms at home, take them with you in the car and on journeys, or simply use one after the other. Despite all their versatility and efficiency, our latest paper towels do not burden the environment at any stage of their life. In line with the "Save Nature" label, they are made from fully recyclable materials and manufactured with care for water and forest resources.
Paper towel large roll
Efficiency is one of the most important factors characterising paper towels. Large rolls make them last longer, requiring less packaging and therefore generating less waste to the environment. The so-called GIGA rolls can sometimes be a barrier, keeping some of our consumers from using them, due to their large size, which makes them bulky. For example, it can be difficult to unwind such a paper towel with one hand. A large GIGA roll can also cause problems when it comes to finding a place for it near the kitchen sink, where it is usually placed, or fitting it into a holder or stand.
Paper towels in too small roll are also not ideal from the convenience point of view. First of all, they contain too few sheets and run out quickly. This means that you constantly need to have extra rolls on hand and often need to add more. When an unexpected accident occurs, such as spilling a large drink or breaking a jar, the sudden need of finding a second roll of kitchen towels can cause additional unnecessary stress. Our new Velvet JUMBO DUO paper towel, available since April, is a perfect compromise and an ideal solution for everyday life. It eliminates the biggest disadvantage of GIGA rolls, namely their unwieldiness. At the same time, thanks to 480 sheets, you will never run out of towels in an emergency situation. Well-chosen specifications make this paper towel extremely efficient. The roll, therefore, lasts longer than competitive offers solutions, while maintaining a reasonable size and weight.
Paper hand towels
JUMBO DUO are also ideal as paper hand towels. Thanks to their two soft, embossed layers, they absorb and wipe off all types of dirt perfectly. At the same time, compared to their material equivalents, paper towels in sheets offer a higher level of hygiene and lower transmission of microorganisms, which are thus deprived of favourable moist conditions for growth. This is a huge advantage, especially in the new pandemic reality.
Kitchen paper towels
Wondering which kitchen paper towels to choose for your home? Velvet JUMBO DUO, a NEW product in our offer, is an excellent choice. Thanks to embossed sheets and their softness, they do not leave streaks on wiped countertops or other surfaces. Kitchen paper towels not only help to keep your favourite crockery and cutlery looking perfect, but they also make your fridge, cupboard fronts and oven doors spot-free. They are also great for wiping off dirt from worktops, chopping boards and knives.
A paper kitchen towel should be characterised by its high absorbency and also resistance to wet use. Available since April, JUMBO DUO fully meets these requirements. With two rolls of 240 absorbent sheets each, the new JUMBO DUO paper towel will last for a very long time.
Somewhat contrary to its common name, the kitchen paper towel proves its worth practically everywhere. Its versatility, which results from a high level of hygiene, absorbency and efficiency, makes it suitable for many applications at home, in the car or in the workshop. At the same time, the latest Velvet JUMBO DUO remains remarkably environmentally friendly. Its foil packaging and cardboard tube are fully recyclable, fulfilling our environmental commitments.