Colours make happy Juniors!
New Velvet Junior toilet paper packaging
Check out our Velvet Junior moist toilet paper in two new colourful packaging options that the little ones will love even more!
The new design of children's favourite Velvet moist toilet paper is something they are sure to enjoy! Because kids not only like to show their adulthood and independence (especially when using the toilet without their parents help and using the same products as them), but most of all they feel important when we let them make their own purchasing decisions! Pink or navy blue paper? With balloons, balls and kites or with maps, binoculars and adventurers' backpacks? Ask your little one which pack they want to carry in their backpack and have in their home toilet! 🙂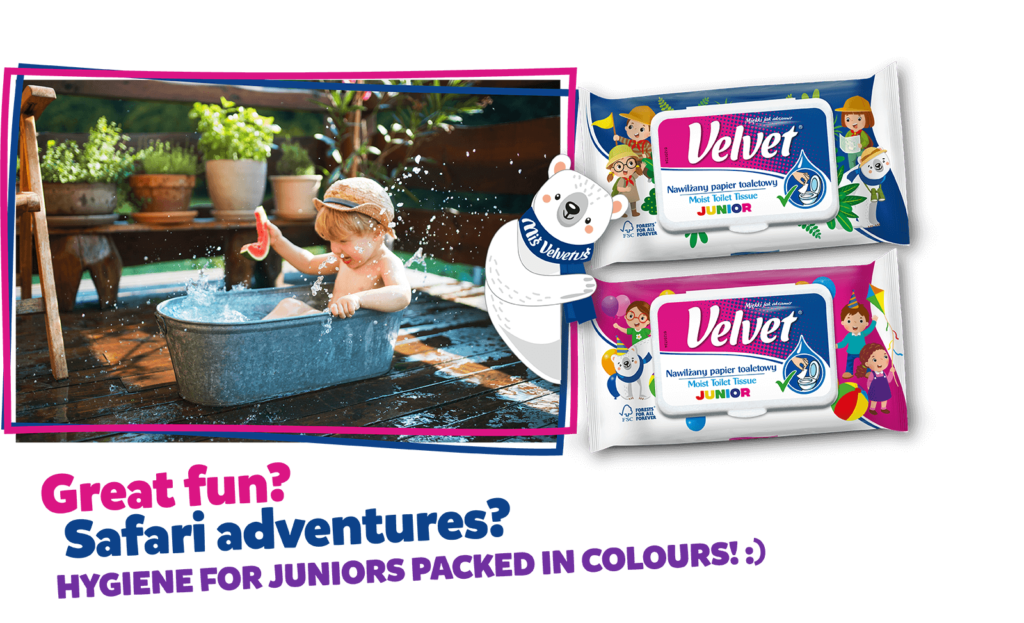 Junior packs with Velvety Teddy!
We also have a nice surprise for all kids! On both new packages of Velvet Junior toilet paper you can find the image of your favourite plush helper – Velvety Teddy, who has long been convincing children that it's worth paying attention to hygiene, and that independence in the toilet is easy and pleasant! Velvety Teddy is known to preschool and primary school children from the Polish educational programme "Healthy and sporty" (pl: "Zdrowo i sportowo"). The campaign provides lots of entertaining materials, games and activities concerning hygiene for the youngest children, which can be found HERE.
The newest Velvet Junior is the same moist toilet paper loved by children and adults with the same composition and fruity fragrance! Only the packaging designs are new. Now they are even more kid-friendly and allow our little ones to make their own choices!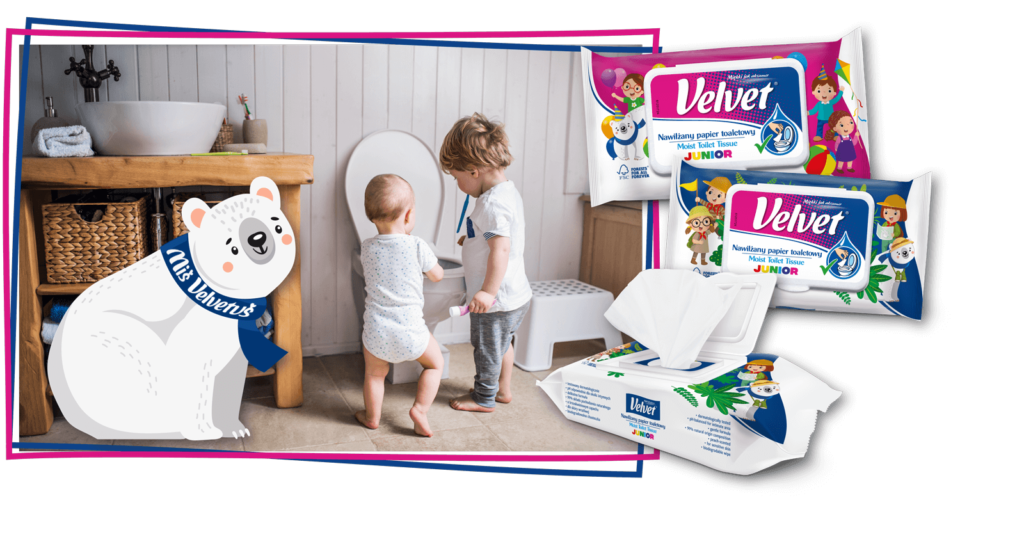 And if you're not familiar with Velvet Junior moist toilet paper, find out its benefits:
each wipe is not only soaked in a gentle, dermatologically tested cosmetic formula containing glycerine, vitamin E, and lactic acid, but also has a lovely fruity fragrance
the paper is fully biodegradable and flushable, which means it can be disposed of in the toilet just like dry toilet paper
99% of its composition is of natural origin
the non-woven material used to manufacture the sheets is 100% natural – it consists of cellulose fibres and contains no plastic
the colourful package has a convenient KLIK opening, which can be easily opened and closed by small children's hands
thanks to its softness and delicacy, the moist toilet paper encourages children to learn to use the toilet on their own
Take care of your child's cleanliness and comfort by teaching them good hygiene and toilet habits from an early age with Velvet Junior moist toilet paper! Allow your little one not only for independence in the toilet but also for independent shopping decisions. Which Velvet moist toilet paper will you choose today: pink or navy blue? See if you have similar preferences! 😉